You can fix this by going to Boxifier settings, uncheck "Block Dropbox updates", then wait for Dropbox to update or manually initiate the update by downloading the latest version of Dropbox and installing it on top of the current one.
Have a similar problem here. Boxifier 1.6.8, dropbox 17.4.34
I removed the option block dropbox updates, but still can't install a dropbox update. Dropbox Offline installer seems to be blocked too
When you uncheck "Block Dropbox updates" please make sure that you click the "Save" button.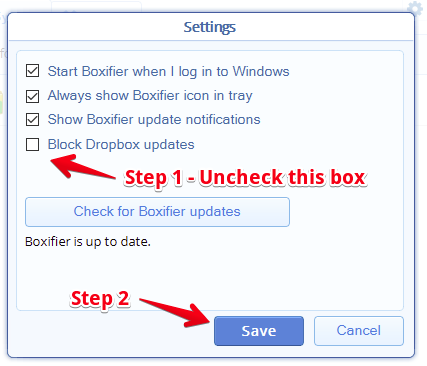 You can also try restarting the computer if nothing else works, but after you uncheck and click "Save" you should be able to run the Dropbox installer with no issues.
Please post a message here and let us know how that goes.